So basically this weekend has been crazy. Really really fun but also one of those weekends when you're running from thing to thing so fast that you don't really have time to let anything sink in. Friday was my friend's fine arts graduation vernissage. A vernissage is a name for the opening night of an art show and there's usually food and wine. It was really good to see the amazing stuff my friend has been doing. It always amazes me the way people can be so talented artistically.

To the Vernissage I wore a dress I bought at my favorite boutique Boudoir. Its dresses often remind me of some I've seen on Modcloth except that Boudoir has the most fab sales rack which i always check on my way by the boutique.
This is a dress I bought last fall. It's very simple but I love the fabric of the skirt. I took these pictures on self timer in the five minutes before I dashed out the door so they aren't my best. I hope you can get a sense of the outfit anyways.



Here's the earrings I was wearing which my friend from Mexico gave me.

and the bracelet which is real turquoise which my dad brought me back from New Mexico

and a detail of the fabric

For the Vernissage I also got to wear my new gladiator sandals out. I really like my new pair because they are very plain but also elegant. it isn't real leather but they aren't garish as some of the ridiculous sandals you see people wearing which look like they were assembled from the dollar store craft section.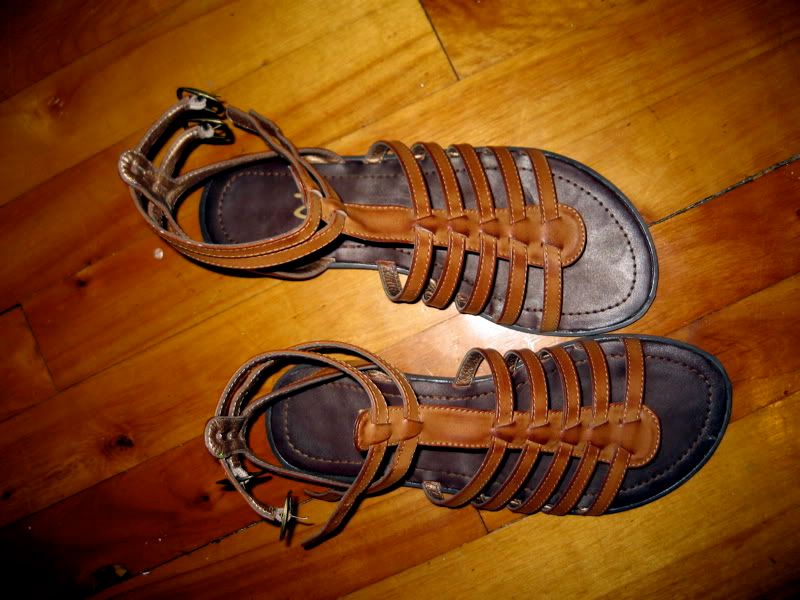 Speaking of shoes, I got to wear my favorite pair of heels to my friend's wedding on Saturday. The wedding was beautiful and the bride stunning. There was an open bar and dancing and I was at at table with my friends so I had a first rate time. I wore my heels for the first part of the dancing but then my feet wanted to be a bit freer so eventually I took them off and just crazy danced in my bare feet. Here's a picture of my favorite heels. I like them because they're leather and very comfortable even though they're pretty high.
Here's what I was wearing to the wedding. This is the only picture I could find, which was one that my friend posted on facebook.

That flapper dress actually deserves its own post which I'll try to do in the future. I'll just say that dancing in that dress is a whole new experience.

One last thing: my friend had this first rate vintage leather purse that her mother embossed as a teen ager when that kind of thing was cool so I had to take a picture

I'm sorry this post is so long. There were just so many pictures I wanted to include.
I hope everyone is enjoying the beginning of summer :)