Nobody looks stylish everyday. At least I hope nobody does, because I certainly don't.

That said, I do think that with a little effort I could eliminate a good chunk of the days where
my appearance = death.

This evening while brushing my teeth I came up with the three biggest obstacles to my general stylishness.
Greatest Obstacles in my pursuit of Style
1.My own Laziness
2. My limited budget
3. My mood in the morning as I get dressed

Possible Solutions:(possible resolutions?)
1. Take the time in the morning to chose my outfits. Make an effort to not settle for the first thing I see in my drawers.
2. Go thrifting more, hunt down sales.
3. I find that if I eat breakfast before I get dressed I'm so much more inspired than if I get dressed before I eat.
It remains to be seen whether I follow through with any of those "solutions". What are the biggest obstacles for you guys in looking stylish?
How do you guys overcome them?


I realize that another, 4th obstacle is lifestyle. I've been working at a day camp this summer where we take the kids to the pool every day, making outfits like the one below the most practical.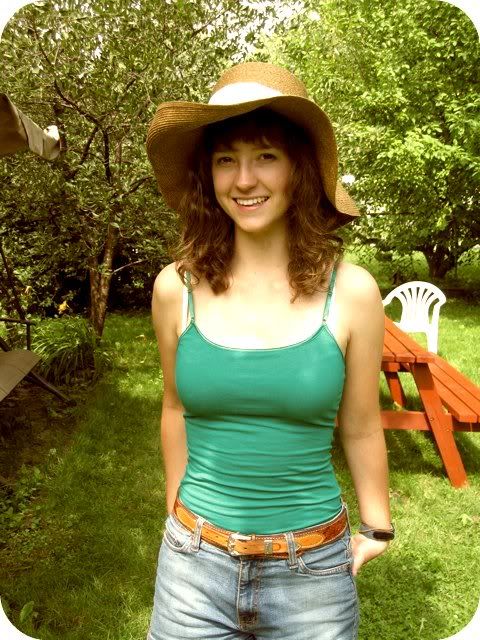 My aunt took this picture on her new digital camera in my back yard. It was cute how excited she was to snap photos of everything and everyone.
Thanks for all the comments on my bangs. I've been enjoying them even though the present hot weather is frizzing them a bit.
On a completely different note, my latest shoe longing is for a pair of boat shoes (or dock shoes?)
Like this pair,
The only explanation for this longing is the fact that I will be headed to BC and to the Ocean in 9 days!!!
I'm sorry this post is random and I'll try to have a real outfit post up soon but I'm interested in hearing your thoughts on obstacles that prevent you from being your stylish best.
Happy middle of the week to everyone!
Outfit details: shorts-levis, belt-thrifted,tank-H&M,hat-winners