My roommate is away for the weekend so the apartment is a bit lonely. However It's also kind of nice to have my own space for a little bit. We'll see how soon "I have my own space!" becomes "I am alllll aloonnneee! what do i dooooo?!"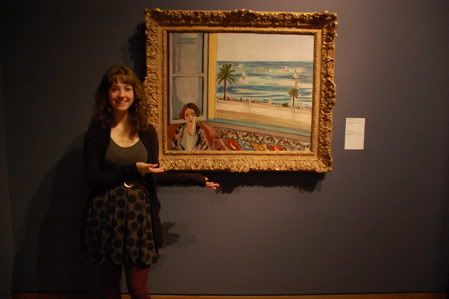 Before Christmas I went to the Montreal fine arts Museum with my friend Tim. We had a wonderful time poking around the exhibits and he took some pictures to document our adventure.
I wanted to share them because I think they really capture how rich and magical Art Museums can be.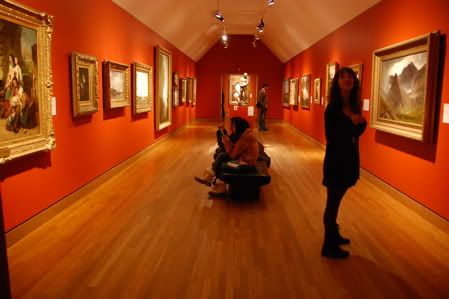 I love how you can just get lost in a painting and forget everything else. In this photo I was enthralled by a painting of swimming polar bears that was hanging over the doorway.
This is one of my favorite paintings in the permanent collection. I want to be lying on my stomach on that roof top terrace, staring over the city to the distant sea.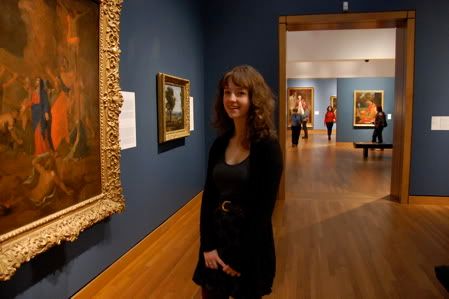 The afternoon at the museum was thoroughly enjoyable as you can see from Tim's lovely pictures.
Exciting events of today:
Went to work and looked at Look Book between taking calls. Helped my aunt buy make-up. Went to a free student dinner and climbed the stairs up Mount Royal and enjoyed the illuminated sky line. Went to
Broadway cheese cake
and borrowed my friend's money to buy a small white chocolate raspberry cheese cake. Yum yum yum
Successful day? I think so!