Right now I am super not in the mood for blogging but I am forcing myself to write this post. Look at me being all "good bloggerly". I don't even know why I don't feel like blogging. I probably shouldn't over analyze it. I can attest to the fact that over-analyzing things very very rarely leads to anything good.
What does always lead to good things is wearing cool sweaters.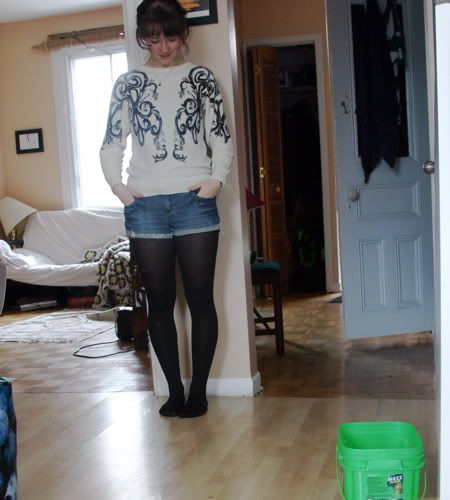 My friend Charlotte's comment on this outfit: "Christy are you crazy?? You're wearing shorts in January! You're going to freeze!"
I won't deny I was a bit chilly but I didn't find it unbearably cold. I'm pretty sure this is because my legs are immune to cold from my high school years of wearing a kilt throughout the coldest months of the year.
Here's a little peek into what our kitchen looks like. There's my mac book where I do all my blogging.
ya it's a bit cluttered....
Hope you guys are all keeping warm!
Outfit details: sweater-thrifted, shorts-forever 21, tights-sears, necklace-gift