I'm a bit believer in muffins, good muffins that is. Bad store bought muffins have a tendency to be overly wet or dry and crumbling. I like that muffins are less sweet than cupcakes and make good breakfast foods. Muffins and tea is one of my favorite breakfasts ever.
So I decided I would share one of my favorite muffin recipes with you.
This
cranberry yogurt muffin
is both super easy to make and pretty healthy.
It's also delicious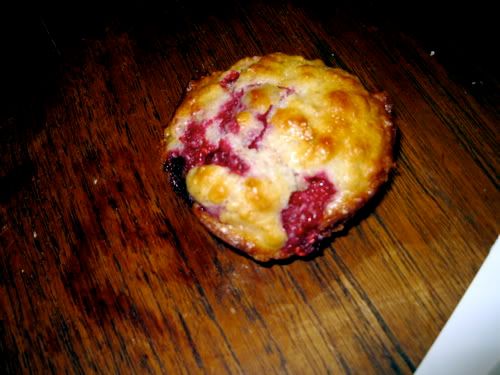 Cranberry Yogurt Muffins:

Temp: 400 F
Cook time: 20 min
Makes: 12 large muffins

Ingredients:
1 cup rolled oats
1 cup yogurt (plain unsweetened)
1/2 cup sunflower oil
1/2 cup sugar (or sugar substitute)
(1 T of honey optional)
1 egg
1 cup of flour
1 tsp salt
1/2 tsp baking soda
1 tsp baking powder
1 cup cranberries (frozen or fresh)

Mix all the ingredients together in a large bowl and fill greased muffin tins.

Other variations
use raspberries or
blueberries + lemon zest



This recipe is amazingly easy and the results are moist and not too sweet.
I hope you guys enjoyed this recipe. I'll have a regular outfit post up soon
have a good Monday!