Sometimes I wish I could just pack up my bags and leave for some exotic and foreign city where I could experience the strange delights that travel offers but other times I realize I'm still a tiny bit in love with Montreal, even though I've lived here all my life.
Granted, it isn't as beautiful and cultured as many cities in Europe but it's an interesting mash up of french and english culture and there's usually something going on.
If you ever have a chance to visit it, I would strongly suggest you do so.
When Laura was here I was reminded again of why I love it. We went on a ramble one afternoon with our cameras in our chic winter coats and we discovered so many nice photo opportunities, even just around my apartment.


Graffiti always makes an interesting backdrop. Here I am with my camera and winter coat, feeling that I look like a pro.

This beautiful building is so close to my apartment. The outside is so interesting that I always wonder what the inside is like.
I also love the houses with multi-coloured brick. It's so bright and cheery.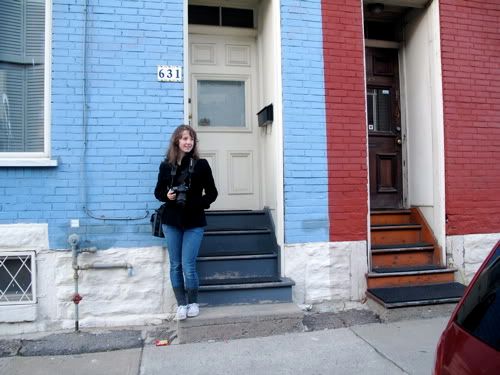 When Laura and I were wandering the streets the light was just beautiful
Laura captured this picture of me while standing on a fire escape. We had to run away quickly when we heard someone coming.
I loved the setting for this picture of Laura. It seems sort of mysterious.
That's just a little glimpse into our ramble.
Hope everyone's week isn't too hectic