Laura's visit was a lot of fun. It was a bit of an odd visit because I had classes and work but we managed to hang out in the odd nooks and crannies of time and on Tuesday I skipped my class and we went thrifting.
I bought a lace T-shirt which was something that I'd been wanting for a while.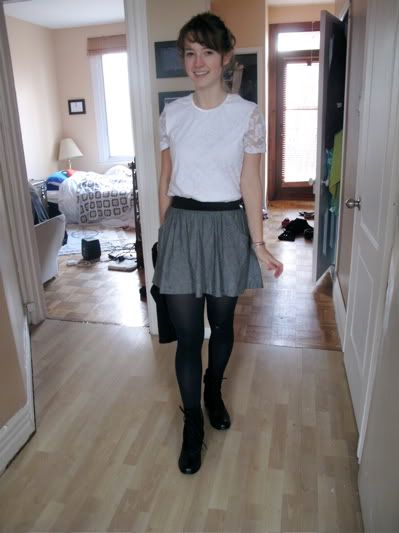 Another purchase I made with Laura was....duh duh duh
A pair of boots!!
For a long time I had been on the hunt for a pair of boots that are both stylish and will not die in Montreal winters.
Winter in Montreal is not kind to boots. The salt in the streets encrusts your boots and destroys them. The slush seeps through all but the most water proof seams and if you buy cheap boots you can count on buying a new pair next winter or maybe even by Christmas.
So the pair I bought are rockport from the Bay. I was at the Bay with Laura and my aunt, trying to help my Aunt find a sweater but instead I found boots.