Maybe it's November but I've been feeling a bit blue lately. I have final essays and exams looming on the horizon and like everyone else at school I'm tired and wanting school to just be over. I have a huge painting to finish for my painting class and it's leaning against my kitchen wall reminding me of how much work I have to do. It's a bit depressing really.
Even listening to Harry Potter and the Deathly Hallows audio book while I painted didn't make me feel completely happy.
On the bright side, only 2 weeks left! And then Christmas will really seem soon.
Those are my roommate's heels which I just wore to take these pictures. They're actually a bit big on me. Later that day I switched belts, because I couldn't tie the woven belt in a way that I liked.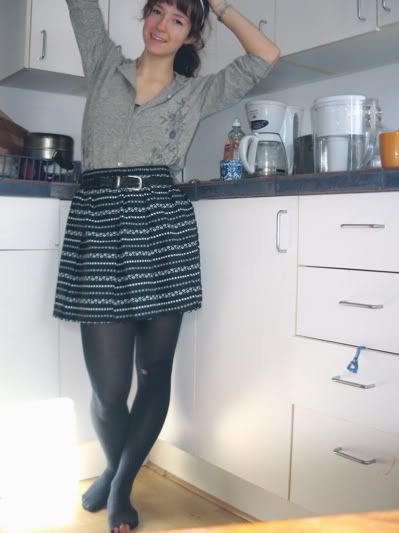 i know the proportions on this photo are wonky but that happens when you're leaning back and using self-timer.
I hope everyone is escaping November blues more successfully than I am.
Happy thanksgiving to all Americans.
Christy
Outfit Details: skirt-thrifted, sweater-thrifted, belt-Russia, Heels-Steve madden