I love the expression Nuit Blanche: It means an all-nighter or literally a "white night"
On one night in February in Montreal there's a celebration called Nuit Blanche: where the city literally doesn't go to bed. All night down town there are free shows and art exhibits and other cultural events. The museums are open all night and basically the entire young population of Montreal takes to the streets in the -12 degree weather to enjoy the night.
This took place last Saturday and I went out with a group of friends to enjoy some art.
We saw a show about excess and bourgeoisie lifestyle that took place in the this studio apartment with brick walls where to watch the show you just stood around the edges of the room.
Then after we wandered for a while before going into the more than 6 km of underground malls and metro stations to see the art exhibits that were set up.
We saw such art as this piece depicting a suicidal Flamingo entitled "la vie en rose"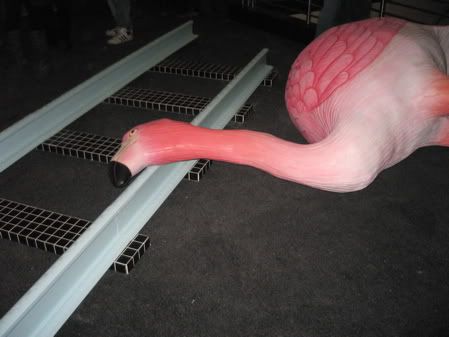 I love that I live in a city that doesn't just survive winter but celebrates it.
Speaking of Winter adventures here are some pictures I took with my friend by this random installation of white globes. "les spheres poleres"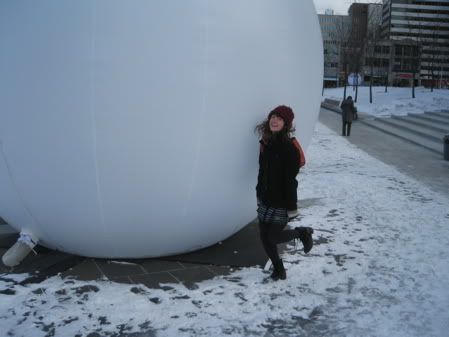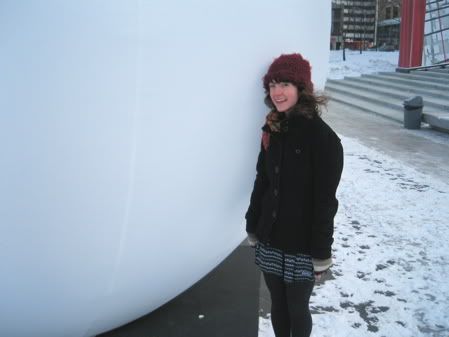 This is pretty much my typical winter outfit: skirt and tights, coat and wooly hat and mitts.
All that said, I won't be complaining if Spring decides to arrive soon :)

Christy