I've finally chosen a topic for my major paper for one of my english classes. I'm doing it on the Gothic parody in Northanger Abbey by Jane Austen. If you haven't read Northanger Abbey I would suggest you pick it up and give it a try. It's shorter than a lot of Austen's other novels *cought*mansfield Park*cough* and it's very light-hearted and funny as it makes fun of the type of Gothic romances that were popular in the 1800's...in particular a very over the top novel by the name of "The Mysteries of Udolpho" which is the story of the orphaned Emily who is imprisoned in a "haunted" castle by her evil aunt and her Italian Husband. It's pretty great....but also pretty full of long pastoral passages describing the countryside....snore.
in other news!
IT"S FREAKING COLD
I am pretty much in a perpetual state of bundled-ness.
on the morning that this particular photo was taken it was -27 without the wind chill and i was wearing long-underwear underneath my leggings.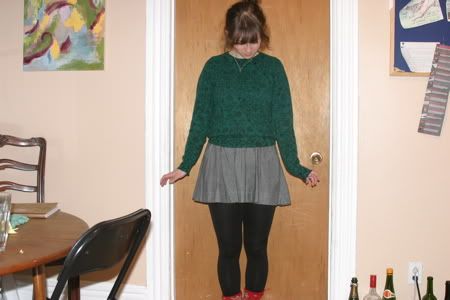 Montreal natives are very hardy. We still wear skirts and dresses in February, we just bulk them up with wool sweaters and multiple pairs of tights and leggings.
Booya we're tough!
Don't forget the cozy socks!!
I'm sorry I haven't been commenting/reading blogs so much lately. Now that i've gotten the preliminary research done on my Northanger Abbey essay I should have more time to catch up on what all you stylish ladies are up to!
Christy