Actually the title is a lie. No old men were harmed in the creation of this outfit. This sweater did come from what I'm pretty sure was the men's section of the thrift store.
I'm not always sure how to wear sweaters this large. This morning I decided that shorts and tights worked better than jeans or a skirt as it balanced out the bulkiness of the sweater.
My bangs need serious trimming but our scissors have disappeared so I've been unable to fix them myself. For those of you who have bangs, do you trim them yourself?
If so, how does this work out for you? One time I was attempting a hair repair I got a hair in my eye and I spent at least ten traumatizing minutes trying to get it out.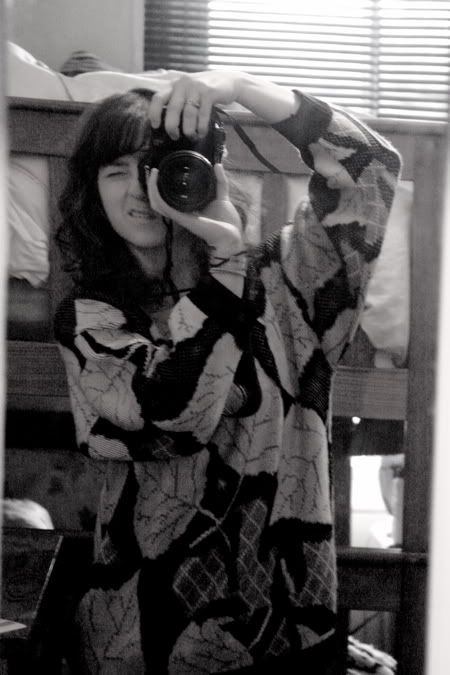 This highly attractive photo was taken in my bedroom mirror. Apparently that's the face I make when taking pictures. I guess I had to find that out one day.
My past week has been pretty quiet. I haven't really seen a lot of people or left the house except for dance and school. It's been a bit odd actually....I'm not sure how I feel about it. Usually I'm more social. Maybe I'm just getting in touch with my more introverted side.
Anyways, hope everyone is having a good weekend!
Christy